Chauvet
Intimidator Spot LED 350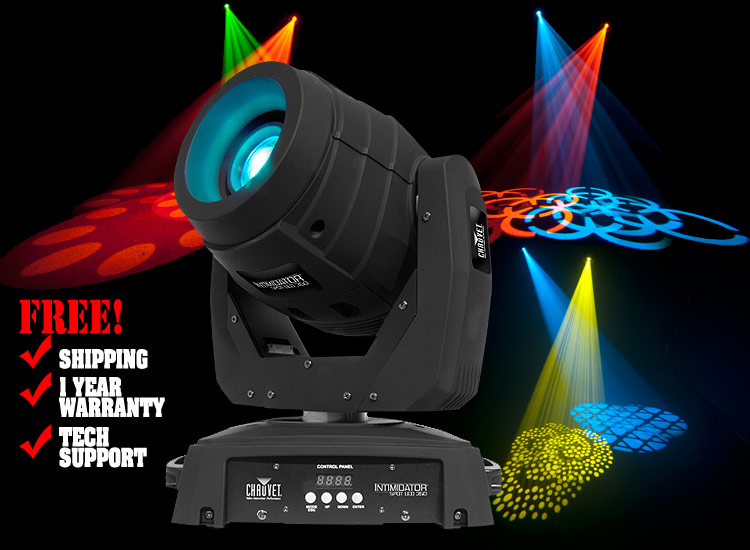 Regular Price $999.99


Our Price $599.99

CHAUVET® is proud to announce the latest addition to the Intimidator™ family of moving lights. Intimidator™ Spot 350 is the most powerful LED spot in the Intimidator™ line. A 75-watt LED combined with superior optics makes this fixture considerably brighter than most 90-watt LED fixtures currently on the market. This feature packed moving head features a motorized focus for crisp, rotating gobos when projected from most distances. A three-facet rotating prism splits the beam for great effects and to cover a larger area while interchangeable gobos allow for custom looks.
Feature packed, 75 W LED moving head spot
Motorized focus allows the rotating gobos to be crisp when projected at most distances
3-facet rotating prism splits the beam for great effects and to cover a larger area
Easy-access gobo door allows for quick gobo changes without opening the fixture
Electronic dimmer allows super-smooth LED fading
Manual zoom decreases beam angle by 5° to project farther
User-selectable pan and tilt ranges keep the light where you want it
Built-in effect macros and move-in-black feature minimizes programming time
Power linking saves time running cables and extension cords
Individual reset of pan/tilt, color, gobo, prism and focus allows the show to continue no matter what happens
Awesome sound-activated programs dance to the beat of the music
Easy access to built-in automated programs generate a synchronized show in master/slave mode
DMX channels: 8 or 14
DMX connectors: 3-pin
Pan & tilt: 540° / 270°
Pan & tilt ranges: 540°, 360°, 180° pan / 270°, 180°, 90° tilt
Colors: 8 + white, split colors, continuous scroll at variable speeds
Gobos: 7, rotating, interchangeable, indexing, slot-n-lock, gobo shake, continuous scroll at variable speeds
Gobo size: 24 mm outside, 20 mm image, 1.1 mm max thickness
Light source: 1 white 75 W (17 A) LED 50,000 hrs
Strobe rate: 0 - 20 Hz
Zoom angle: 12°- 17°
Illuminance (12°): 9,490 lux @ 2 m
Power linking: 3 units @ 120 V / 7 units @ 230 V
Input voltage: Auto-ranging 100-240 VAC 50/60 Hz
Power and current: 272 W, 2.2 A @ 120 V 60 Hz
Power and current: 285 W, 1.2 A @ 230 V 50 Hz
Weight: 22.7 lbs (10.3 kg)
Size: 10.6 x 13.4 x 15.4 in (268 x 340 x 392 mm)
Approvals: CE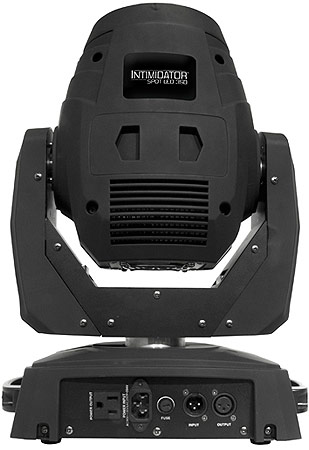 If you don't see it, it doesn't mean we don't have it. If you are interested in a certain product, but don't see it on our website, please call us or e-mail us!
*All products subject to available stock.
Copyright © 2014 by www.123DJ.com