Chauvet COLORdash Accent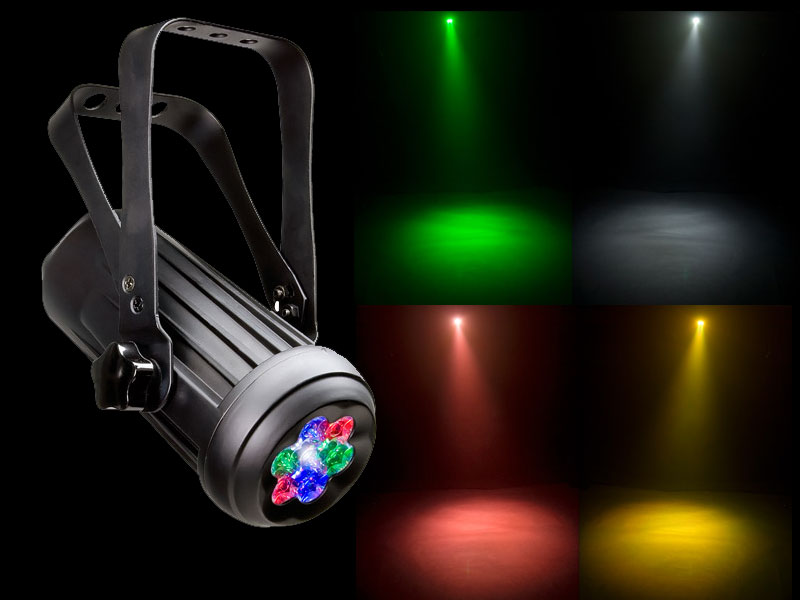 The COLORdash™ Accent takes lighting in confined spaces to a new level, thanks to 7 high power, 1-watt LEDs and its diminutive size. At just under 7" long and 3" in diameter, this 1.5lb light mounts just about anywhere. Robust, yet sleek in appearance, its cast aluminum housing helps dissipate heat. Control is via DMX or on-board dipswitches capable of static colors or built-in programs.
3, 4, or 9-channel ultra compact RGBW LED wash light
Operating modes
3-channel: RGB control
4-channel: RGBW control
9-channel: RGBW, dimmer, macro, strobe, auto program trigger, auto program speed adjustment
RGBW color mixing with or without DMX control
Built-in automated programs via master/slave or DMX
Double-bracket yoke doubles as floor stand
18° optics
Beam angle: 20°
Field angle: 37.5°
Lux: 926 @ 1m, 240 @ 2m
Light source: 7 x 1 W LEDs, 50,000 hrs
(2 x 350 mA red, 2 x 350 mA green, 2 x 350 mA blue, 1 x 350 mA white)
Power and current: 120 V, 60 Hz; 10 W, 0.1 A (operating)
230 V, 50 Hz; 10 W, 0.1 A (operating)
AC power: Auto-ranging 100 V ~ 240 V 50/60 Hz
Weight: 1.5 lbs / 0.6 kg
If you don't see it, it doesn't mean we don't have it. If you are interested in a certain product, but don't see it on our website, please call us or e-mail us!
*All products subject to available stock.
Copyright © 2014 by www.123DJ.com