123DJ.COM
Chicago DJ Equipment Online Superstore -

KARAOKE SYSTEMS FOR HOME AND CLUB AT THE LOWEST PRICES!
VocoPro
CLUB-HD9500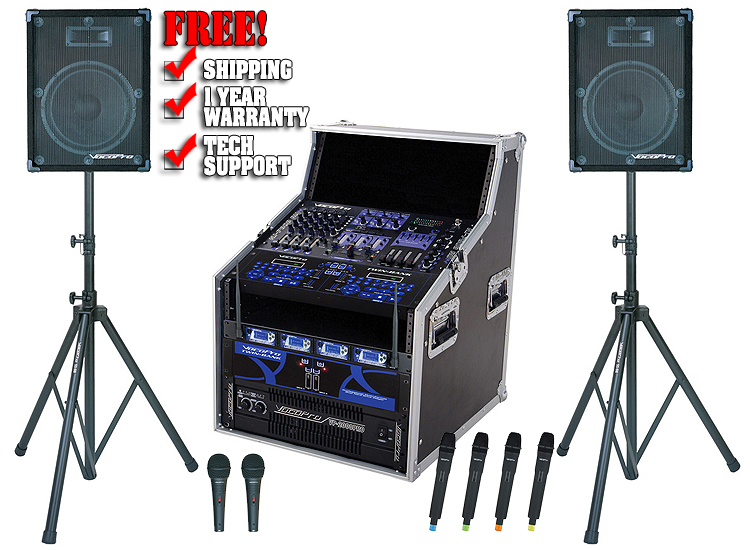 Details

Regular Price $7999.99




Our Price $4399.99



VocoPro CLUB-HD9500
2000W Professional Club System
Features:
System Includes:

TWIN-BANK Professional Multi-Format Dual Hard Drive Player

Never deal with a scratched disc again!
Let's face it?discs are becoming a thing of the past. That's why you won't find disc players on our new TWIN-BANK. Instead, we have twin 500GB* hard drives to handle even the most mammoth of media libraries with ease. But just in case you do need to play some files on-the-fly, we got you covered with dual USB and SD inputs.
The dual hard drive design makes this unit perfect for a KJ, DJ or VJ setup. Each side has a 12% pitch adjustability and digital key control. Pitch adjustment works on both audio and video and is key-locked, so the key and syncing of the music will not change during pitch adjustments. Dual A/V inputs and outputs, and a switched A/V output are on-board, ensuring maximum compatibility with your rig. Pick up a TWIN-BANK and enter the digital domain!
Supports AVI, VOB, MP3+G, MP3, and JPG Formats
Dual 500GB* Hard Drives Can Store Thousands of Files
±12% Pitch Control with Key-Lock Works on Both Audio and Video
±7 Step Digital Key Control
Dual USB Thumb Drive and SD Card Ports on the Front Panel for Easy Access to Additional Media
Rear Panel USB Ports for Data Transfers To and From a Computer
Full Function Remote Control
120V/240V and NTSC/PAL Compatible for Worldwide Use

KJ-7808RV Professional KJ/DJ/VJ Mixer with DSP Mic Effect and Digital Key Control

Professional KJ/DJ/VJ Mixer with DSP Mic Effect and Digital Key Control and Built In 7 Band Graphic Equalizer
7 Channel Pro KH/DJ/VJ Mixer with built in Digital Key Control
DSP Vocal Reverb with Level control
2 Main video outputs plus 1 separate monitor output (RCA)
New Smaller Space Saving Rack Design, Only 6 Spacesz
4 Mic Channels, 3 Line/3 Video Inputs, 2 Phono and 3 Video Outputs
Onboard Video Crossfader Toggle
Assignable 11-Step Digital Key Control (Works on both Audio and Mic Channels)
Professional Digital Echo with Repeat and Delay Controls
50 band Graphic Equalizer for precise room tuning
Shipping Dimensions: 12"(L) x 23" (W) x 8" (H)
Shipping Weight: 15 lbs

VP-2100 PRO 2000W Professional Digital Switching Power Amplifier

Our flagship amplifier, the VP-2100 PRO packs a serious punch without a heavy hit to your wallet. It features the latest Digital Switching Technology for low-weight and reduced heat, making for a very portable and reliable amp. A very low 100-dB s/n ratio insures a crystal clear and uncolored audio signal and a true and faithful vocal reproduction. With its built-in Clip Limiter and Low Frequency Filter, distortion and speaker damage is a thing of the past. Also, when it comes to I/O versatility, the Balanced 1/4", XLR, and 3-way binding posts make for easy system integration's. So when you seek chest thumping, crystal clear sound with industry leading features and total reliability, the VP-2100 PRO has you covered!
1000W + 1000W RMS @ 2 Ohms
2000W + 2000W max power output @ (2ohm)
Frequency Response: 20 Hz - 20 kHz
Signal to Noise Ratio: 100 dB
XLR and 1 / 4" Inputs
Stable at 2 ohm so it can drive eight 8 ohm speakers
Digital Switching Design is lighter than conventional amps
Shipping Dimensions 22" (W) x 22 1/2" (D) x 8" (H)
Shipping Weight: 30 Lbs.

UHF-5900 Professional 4 Channel UHF Wireless Microphone System

Tired of unexpected radio interference ruining your shows? Musicians and DJs have always had one major problem with wireless mic systems: When you go to a new location for a gig, there may be local radio interference that causes your wireless mics to malfunction.

The UHF-5900 wireless mic system solves this problem. With the frequency scan feature, you can automatically search and set to an interference free frequency! You can also change the frequency manually to one of the 150+ available frequencies. With the UHF-5900, radio interference will be a thing of the past.
Operates In The FCC Compliant 600MHz Band
Includes Four UHF Wireless Microphones
Frequency Scan Feature Finds Interference Free Frequencies
More Than 150 Wireless Frequencies To Choose From
LCD Display Windows Show Frequency And Other Information
19" Rack Mount Compatible, Uses Only 1 Rack Space
Independent Channel Power Switches And Volume Controls
Four XLR Independent Channel Audio Outputs
One 1/4" Mixed Audio Output
Microphones Use AA Batteries
Includes Handy Carrying Case

Two MARK-38 Professional Vocal Microphones
Two VX-15 Professional 15" Vocal Speakers

These 100% U.S. crafted speakers are built with quality materials and a higher sensitivity, providing maximum sound per watt. They are also designed with emphasis on the midrange, which is perfect for live entertainment and vocals. Each VX-15 speaker is protected by heavy duty aviation grade carpeting, abs corners and a metal grill; a must for the mobile DJ and club installations! Speaker dimensions measure only 28" x 20" x 17" and weigh only 50 pounds! And coming equipped with strap handles on each side and a tripod adapter, the VX-15 is ideal for transporting and setting up.
2-Way 15" P.A. Vocal Speaker
Vocal speaker designed for live entertainment.
Power rating: 600 W peak / 300 W RMS
Impedance: 8 ohms
Carpeted with metal speaker grills
Sensitivity: 100 dB
Frequency response: 20HZ-20KHZ
Shipping Dimensions: 19 3/4" (L) x 19" (W) x 26 1/4 "(H)
Shipping Weight: 53 lbs
Made in the U.S.A Speaker stand mountable

Two SS-88 Speaker Stands
FC-90 Flight Case
2201 S. Union • Chicago, IL 60616
Phone: 312 -846-6192 • Fax: 312-492-8949
Toll Free 1-800
-856-8397

CONTACT US
-
BEAT A PRICE
-
GEAR RENTAL
-
TRACK YOUR PACKAGE
-
RETURNS / WARRANTY INFO
ABOUT US
-
SHIPPING INFO
-
PURCHASE ORDERS
-
CUSTOM INSTALLATION
-
TERMS

If you don't see it, it doesn't mean we don't have it. If you are interested in a certain product, but don't see it on our website, please call us or e-mail us!
*All products subject to available stock.
Copyright © 2014 by www.123DJ.com