SE115M+K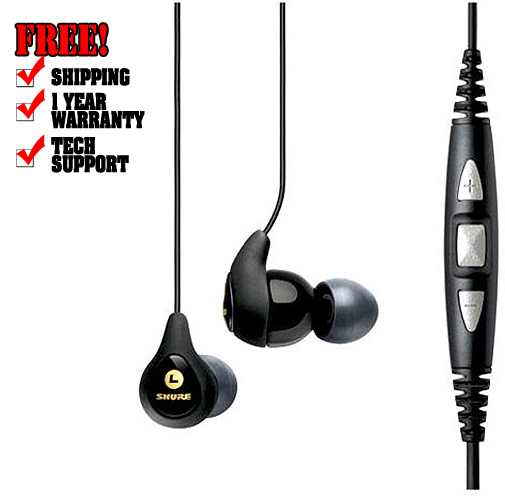 Regular Price $239.99
Our Price $119.99
Dynamic MicroDriver II
The compact SE115m+ is a perfect introduction to the stunning performance of Shure earphones. The SE115m+ uses Second Generation Dynamic MicroDriver technology to deliver the rich, warm, detailed sound, and resonant bass of the SE115m+. The integrated 3-button remote located on the cable of the right earpiece allows you to easily answer and end your calls, then switch back and control your music, all in one device. Sound isolating sleeves in multiple sizes block outside noise and provide a secure, comfortable fit.


Dynamic MicroDriver II. The SE115 features 2nd Generation Dynamic MicroDrivers to deliver detailed, warm, sound quality with resonant bass. Rediscover your favorite music-richer and more lifelike than you've ever heard it.
Integrated Microphone. 3-button remote control and mic allows you to adjust the volume, control music and video playback, record voice memos, and answer or end calls.
Sound Isolating Design. Included sound isolating sleeves block up to 37 dB of ambient noise. Combined with a low-profile ergonomic design and fixed or modular cable options, interruptions from the outside world are minimized. Shure Sound Isolating Earphones require a proper fit to achieve the best sound.
Fit Kit

Sound Isolating Sleeves. Because every ear is different, the Fit Kit includes three sizes (S, M, L) of the Soft Flex and Black Foam Sleeves. A good seal is key to optimizing sound isolation and bass response as well as maximizing comfort during extended wear.
Zippered Carrying Case. Provides a convenient, tangle-free solution to store your earphones.
If you don't see it, it doesn't mean we don't have it. If you are interested in a certain product, but don't see it on our website, please call us or e-mail us!
*All products subject to available stock.
Copyright © 2014 by www.123DJ.com