Beats by Dr. Dre Monster Solo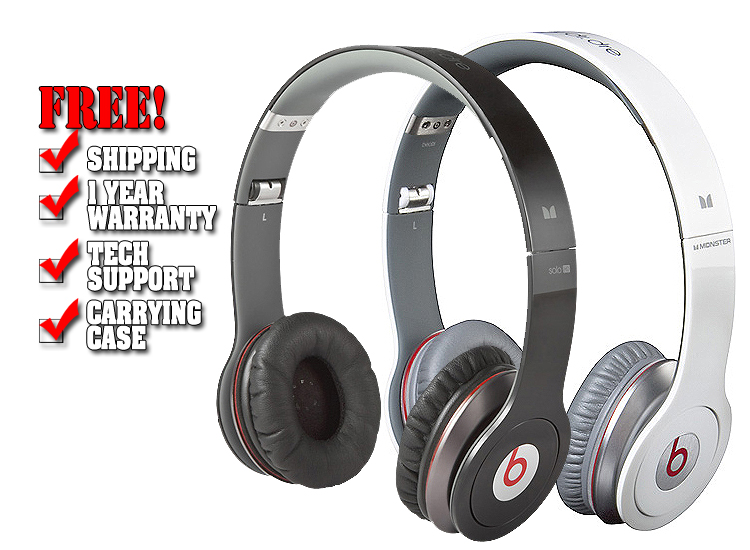 CURRENTLY OUT OF STOCK
The music you listen to in your headphones should capture all the sonic details the artist wanted you to hear. But normal headphones can't deliver the rich, full sound in today's digital audio tracks, especially not smaller, lightweight headphones. But Solos high performance headphones, which are designed for today's active lifestyles, deliver sound so real, you'll be amazed it's all coming from something so compact and portable.
New Super-durable Headband
Now constructed of super-durable and flexible material to virtually eliminate cracking and breaking.
Built-in Mic for Hands-Free Calls and Online Chats
ControlTalk's built-in mic lets you talk hands-free on your iPhone or music phone. It works with online voice or video chats on iPod® touch or iPhone®.
Control iPod and iPhone the Easy Way
ControlTalk™ gives you on-cable playback control of your iPod or iPhone, including pause, next track and volume.
Folding Design and Touring Case
Solo's three-way folding design makes packing up for storage a breeze. Plus, the included touring case features rugged construction for enhanced protection of your headphones.
Available in White and Black
If you like things on the lighter side, in addition to the traditional Beats by Dr. Dre™ black, Solos also come in white.
Monster® Clean Cloth™
Ultra-soft cleaning cloth with AEGIS® microbe shield cleans Solo's finish and controls germs.
Box Includes:

Beats Solo on-ear headphones
Monster Headphone cable with ControlTalk™
Travel case
Tissu de nettoyage anti-microbien
1 year warranty
If you don't see it, it doesn't mean we don't have it. If you are interested in a certain product, but don't see it on our website, please call us or e-mail us!
*All products subject to available stock.
Copyright © 2014 by www.123DJ.com