Super-X PRO CX-2310
Like the CX3400, the CX2310 offers absolute precision, state-of-the-art circuitry, professional components, ultra low-noise op amps, fully balanced in and outputs and intuitive operation. In addition to full-fledged 2-way stereo/3-way mono operation, the CX2310 features a separately adjustable subwoofer output, giving you an extra low-frequency band.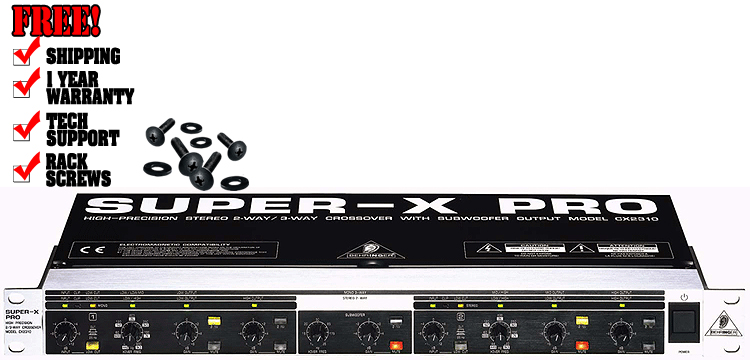 Regular Price $199.99
Our Price $99.99
24 dB/octave, state-variable Linkwitz-Riley filters for precise frequency separation
Absolutely flat summed amplitude response, zero phase difference
Individual output level and mute per band
Phase reverse switch per output
Switchable 25 Hz subsonic filter on each input for low-frequency driver protection
"Sum" function provides low-level mono output for subwoofer operation
Shielded toroidal mains transformer for minimal noise interference

If you don't see it, it doesn't mean we don't have it. If you are interested in a certain product, but don't see it on our website, please call us or e-mail us!
*All products subject to available stock.
Copyright © 2014 by www.123DJ.com