123DJ-M2ULT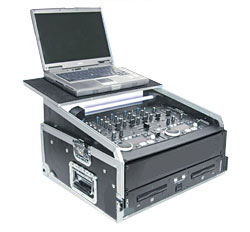 *equipment not included
Regular Price $399.99
Our price $239.99
Removable lid and back panel for easy access
10U Slant Mixer Rack, 2U Vertical Rack System with Full AC Door and Sliding Back Top Shelf to hold up to 17" Laptop.

Specifications: Sliding Back Top Shelf, Durable and solid rack rails, ATA 300, Spring action handles, Easy locking fit and tongue, Heavy and powerful ball corners, Industrial strength latches and rubber feet, Dual anchor rivets, Laminated 3/8" plywood, Includes mounting hardware, Net Weight: 37 lbs., Shipping Weight: 41 lbs.
If you don't see it, it doesn't mean we don't have it. If you are interested in a certain product, but don't see it on our website, please call us or e-mail us!
*All products subject to available stock.
Copyright © 2014 by www.123DJ.com