2201 S. Union • Chicago, IL 60616
Phone: 312-846-6192 • Fax: 312-492-8949
SE HABLA ESPANOL

UDG Maschine Bag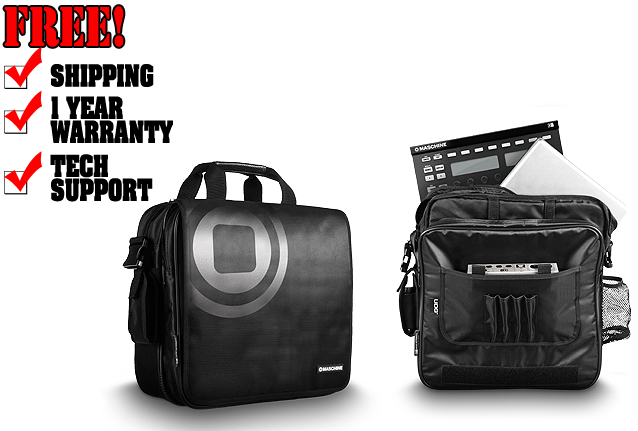 CURRENTLY OUT OF STOCK
NI and UDG have collaborated to design the ultimate on-the-road solution for MASCHINE users and other electronic performers.

Our MASCHINE BAG by UDG offers enough room for your equipment: Its main compartment has plenty of space for your MASCHINE controller and laptop while still having lots of space left over for an audio interface like AUDIO KONTROL 1, or other stage equipment. The sturdy bag comes with an adjustable shoulder strap and can easily be slipped onto the handle of a trolley when on the road.

The MASCHINE BAG by UDG is just the right mixture of sleek looks and functionality.
Based on the UDG CourierBag Deluxe, expanded with an additional audio interface pocket
MASCHINE-branding with stylish black-on-black icon (rubber on nylon) and subtle white rubberized logo
Fabric: Water resistant nylon
Outer Dimensions: 35 x 38 x 13cm, 13.77 x 14.96 x 5.11''
Inner Dimensions: 33 x 36 x 10cm, 12.99 x 14.17 x 3.39''
Individual padded 15.4 inch laptop bag inside
Large pocket under the front lid (with pen holders)
Inside pocket for holding an NI audio interface
Adjustable shoulder strap
Handle with rubber grips
Detachable side pocket for mobile phone or AUDIO 2 DJ
Water bottle holder on the side
Bottom: Rubber slip guards for fabric protection
WE GLADLY ACCEPT
WE GLADLY SHIP


If you don't see it, it doesn't mean we don't have it.
If you are interested in a certain product,
but don't see it on our website, please call us or e-mail us!
*All products subject to available stock.
Copyright © 2014 by www.123DJ.com