Universal 19" Commercial Grade Case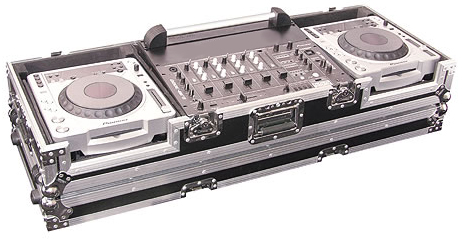 *Equipment not included
Regular Price $499.99
Our Price $329.99
Please include in the "notes" section of the order form the model numbers of the equipment for which you are using this case so that we may insure a perfect fit.
Our CD DJ Coffins hold two large format tabletop CD players and one mixer.
These ATA Rolling Coffins feature rugged built-in wheels, heavy duty spring-loaded latches, stackable ball corners, and front access panels.
Cabling is clean and easy through convenient access ports throughout.
The mixer well holds 19" rackmount mixers, up to X spaces and X" tall. The CD wells can hold a variety of players including the following:
Width - 48", Height - 9.5", Depth - 19"
If you don't see it, it doesn't mean we don't have it. If you are interested in a certain product, but don't see it on our website, please call us or e-mail us!
*All products subject to available stock.
Copyright © 2014 by www.123DJ.com