RRDJCD12WL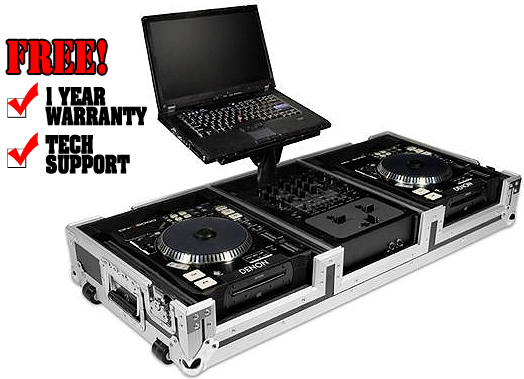 Regular Price $799.99
Our Price $379.99
Our RRDJCD12WL Laptop Trayz case (Patent Pending) integrates a ventilated tilting laptop tray directly into the case. With the ability to rotate 360° and featuring up to 4" of height adjustability, our laptop tray is the most advanced in the industry and gives you complete control over your gear. And, as an added bonus, all our trayz fold down neatly inside of the case for storage; making transportation a breeze! It also features our unique rubberized, metal surface to provide your laptop with extra grip. And, it is not any bigger or heavier than our regular RRDJCD12W. Light, Compact and Integrated. Now That's Cool!

Built to house two large format CD Players with a 12 inch DJ mixer this rugged beauty features a removable front access panesl for easy access to you gear, beefy, stackable ball corners, a removable lid, industrial grade hardware, rugged recessed latches and handles, a rear cable port and sleek low profile wheels.
If you don't see it, it doesn't mean we don't have it. If you are interested in a certain product, but don't see it on our website, please call us or e-mail us!
*All products subject to available stock.
Copyright © 2014 by www.123DJ.com