Concorde DJS Twin Pack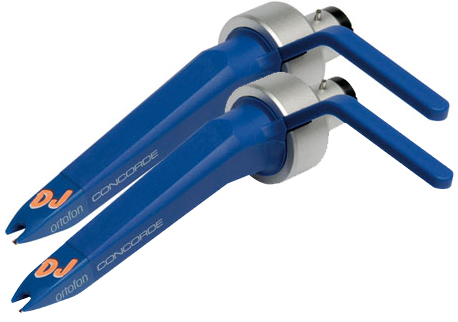 Regular Price $399.99
Our Price $199.99
The DJ series has been known to many as the "jack of all trades," with improved tracking, alongside of accurate sound reproduction. The concorde kit package consists of cartridge body, preinstalled stylus, and replacement stylus. Featuring a low wear stylus design, the DJ provides excellent groove handling, even with less weight applied. The DJ series of cartridges are great for any style of music, and has been a favored choice of DJs around the world.
Output voltage at 1000Hz, 5cm/sec.: 6 mV
Channel balance at 1kHz: 2 dB
Channel separation at 1kHz: 23 dB
Channel separation at 15 kHz: 15 dB
Frequency range at -3dB: 20-20.000 Hz
Frequency response: 20-18.000 Hz 3dB/-2 dB
Tracking ability at 315 Hz at recommmende tracking force: 80 μm
Compliance, dynamic lateral: 9 μm/m N
Stylus type: Spherical
Stylus tip radius: R 18 μm
Tracking force range: 2,0-4,0 g (20-40 mN)
Tracking force recommended: 3,0 g (30 mN)
Tracking angle: 20°
Internal impedance, DC resistance: 750 Ohm
Internal inductance: 450 mH
Recommended load resistance: 47 kOhm
Recommended load capacitance: 200-600 pF
Cartridge weight: 18,5 g
Replacement stylus unit: DJ S
If you don't see it, it doesn't mean we don't have it. If you are interested in a certain product, but don't see it on our website, please call us or e-mail us!
*All products subject to available stock.
Copyright © 2014 by www.123DJ.com