USB Recorder MK2
Record your gig instantly!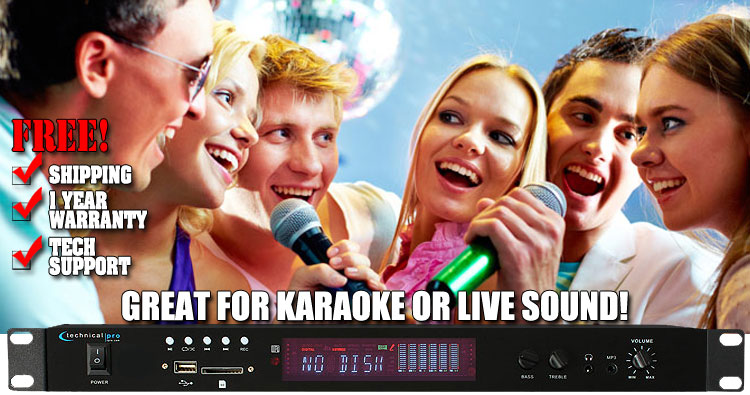 Regular Price $299.99
Our Price $79.99
High performance is the very definition of our USB Recorder and our engineers have designed them to deliver pure audio reproduction and exceptional convenience in a sleek Rack-Mountable housing. Our passion for quality ensures that you'll enjoy accurate, noise-free playback and recording for years to come. Perfect for karaoke use or live sound.
Inputs: USB (Up to 8 GB), SD Card (Up to 4 GB), RCA, ¼
Outputs: RCA, ¼"
Record / Play - choose between recording onto the USB/ SD Card or playing from it
LED screen display
Frequency Response: 20Hz-20KHz ±3dB
Signal to noise ratio: >90dB
Bass and treble controls
Record, play and delete undesired tracks
Controls: next track, previous track, fast forward and rewind
Repeat track, repeat all tracks selector
Play/pause, stop and volume controls
Ground / Lift switch
Headphone output
Stereo Output
USB 2.0 Compatible
Dimensions: 19"w x 1.75"h x 6.5"d
Weight: 7 lbs
110V-220V Switchable
If you don't see it, it doesn't mean we don't have it. If you are interested in a certain product, but don't see it on our website, please call us or e-mail us!
*All products subject to available stock.
Copyright © 2014 by www.123DJ.com