Serato Scratch Live SL3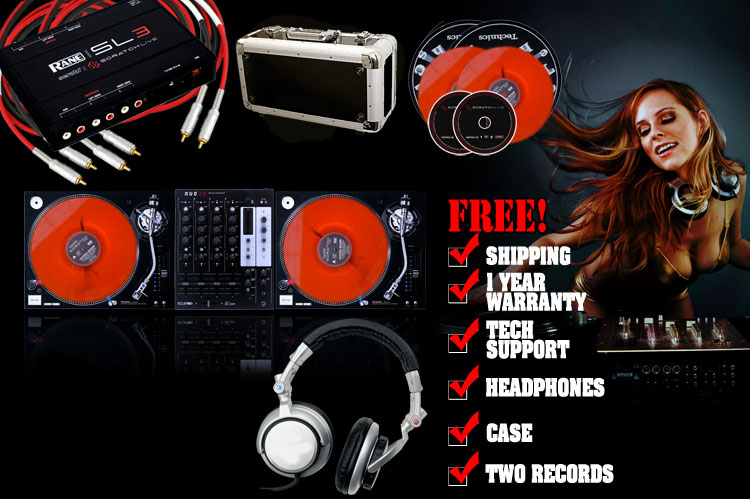 Serato Scratch Live combined with Rane hardware is the ultimate solution for professional DJs, giving you the freedom to take your entire digital music collection on the road and equipping you with advanced features that add extra creativity to your DJing.

This intuitive system replicates the traditional DJing experience for "real feel" usability and performance. With unparalleled performance, sound quality and stability, you'll soon see why thousands of DJs worldwide choose Serato Scratch Live.

Scratch Live software has an array of unique tools and performance features, including:
Creative DJing features: cueing, looping, keylock, the SP-6 Sample Player and DJ FX.
Intuitive file management with smart crates, easy file and iTunes playlist migration.
Multiple display modes for optimal library browsing.
Advanced visual feedback for quick mixing.
Video-SL compatibility for video mixing*.
MIDI mappable controls.
Built-in recording interface for recording your mixes and archiving vinyl.
Exclusive Access to Fresh Promotional Music with Whitelabel.net.
Free software updates that constantly add new features and improvements.
Mix and scratch files from your computer hard drive using Serato Control Vinyl, CD or Approved USB Controllers.
Serato Control Vinyl and Control CD (included)
The Serato Control Vinyl and Control CDs each contain the Noise Map Control Tone, a unique control signal which allows Scratch Live to track the motion of the record, simulating the same movement with digital audio.
Serato Approved USB Controller (optional)
Serato has certified a select range of new generation controllers with USB connectivity to Scratch Live. This means that Scratch Live can now send track information from the software to the supported hardware on-board displays.
You can also use the platters, buttons and sliders instantly, as supported hardware has pre-mapped controls for a no fuss setup.
These models are Serato Approved USB Controllers for 2.1 (PDF Quickstart Guide)
The Rane SL 3 is an audio interface for Scratch Live.
Enhanced by studio grade preamps and 24-bit audio processing, this compact solution produces a warm punchy sound to heighten the senses. Extra outputs allow DJs and electronic musicians to intensify the mix with the Scratch Live SP-6 Sample Player.


The auxiliary input provides a live input feed for creative sampling or recording your set. You can also assign the auxiliary input to provide control for a 3rd Deck.
Use any combination of audio source. Control CD, Control Vinyl or MIDI for more flexibility than ever.
Compact Hardware Design.
Higher output improves ability to easily match levels of various source types.
Improved Dynamic Range (104 dB).
Improved audio performance (24 bit converters).
Galvanic isolation prevents computer noise from interfering with the audio path.
USB 2.0 high speed audio interface.
Control up to 3 Virtual Decks in Scratch Live 2.0.
Aux Input for Live Mix Recording or LiveFeed.
Aux Out channel allows use of Sample Player as a virtual deck and opens the door for future expansion and creative configurations for DJs and electronic musicians.
High-grade Phono Preamps upgrade performance of most mixers.
Software switchable Direct Thru Connections for simplified connections.
Independent Line/ Phono-level selection for each input for greater flexibility.
Includes International Power Supply to insure optimum performance and easy transfer between DJs.
Soft Carry Case Included.

SYSTEM REQUIREMENTS:

Available USB 2.0 port.
1024 x 768 screen resolution or higher.
Hard drive space for music: 5400RPM minimum, 7200RPM recommended for high resolution audio playback.
Mac
2GHz Intel Core Duo.
2GB RAM.
OSX 10.5.8 or higher.
Windows
2.2GHz Intel Core Duo.
2GB RAM.
Windows XP with Service Pack 3 or
Windows Vista with Service Pack 2 or
Windows 7. We recommend Windows 7 over Vista.

If you don't see it, it doesn't mean we don't have it. If you are interested in a certain product, but don't see it on our website, please call us or e-mail us!
*All products subject to available stock.
Copyright © 2014 by www.123DJ.com