Scarlett 2i2


The 2 in / 2 out USB recording interface for musicians on the go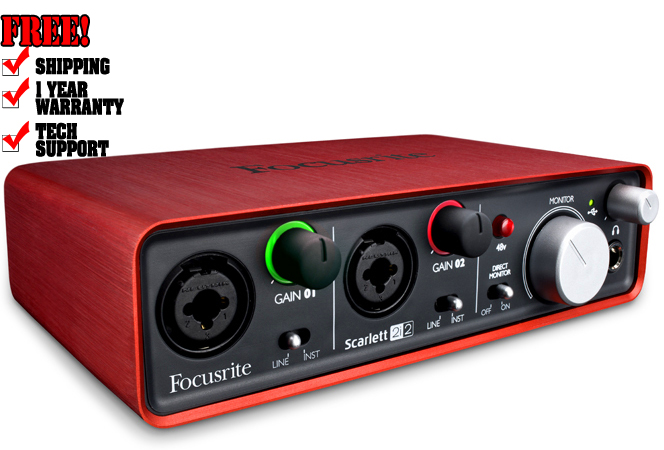 Regular Price $299.99
Our Price $149.99
The Scarlett 2i2 is a 2 in / 2 out USB recording interface featuring two award-winning Focusrite preamps. Housed in an attractive anodised aluminium unibody chassis, the interface not only sounds fantastic but looks great too. What's more it's solid enough to take on the road when you travel. The Scarlett 2i2 is much more than just a pretty metal box.
High Quality Mic Preamps
Scarlett 2i2 features two high quality award-winning Focusrite mic pres. With more than 25 years of experience in designing analogue equipment, Focusrite produce the best mic preamps in the industry. The preamps found in the Scarlett 2i2 are no exception to this, and share the same design as those found in our flagship interfaces: Saffire PRO 40 and Liquid Saffire 56.

Excellent Digital Performance
With 24-bit resolution at sample rates of up to 96 KHz, the digital conversion in the Scarlett 2i2 is of very high quality meaning that every note and every subtle detail is captured with great clarity.

Rugged Metal Unibody Case
The anodised aluminium unibody chassis ensures that your Scarlett 2i2 can withstand the harsh environment of the road. It also makes Scarlett 2i2 the most beautiful interface around.

Truly Portable Interface
Scarlett 2i2 is very light and compact making it easy to fit in a laptop bag. It's also bus powered meaning that you don't need an additional power supply. Simply plug in to your computer and hit record!

Included Software – DAW and Effects
Inside the box you'll find Ableton Live Lite 8, as well as Focusrite's Scarlett plug-in suite. Compatible with all major DAWs, Scarlett plug-in suite provides EQ, Compression, Gate and Reverb – essential tools for polishing your mix.

Unique LED Gain Halos
The gain halos which surround the gain knob for each input provides an easy way to know that the signal you're recording is the right level. It will show green when the signal is at a good level (above -24dBFS). If it turns to red, you know that the signal is too loud and is therefore clipping – if this happens, simply reduce the gain until the halo returns to green.

Direct Monitor Function
Flick the direct monitor switch on the front panel of your 2i2 and you will hear what you're recording through your speakers or headphones, without the signal having to go through your computer. This avoids the possibility of latency, which can be distracting when recording.

Mac OSX Lion Ready
Scarlett 2i2 has been fully tested with Mac OSX 10.7, Lion. So you can rest assured that your brand new Mac and Scarlett 2i2 will run together perfectly!
2 in / 2 out USB audio interface
96 KHz, 24-bit conversion
2 Focusrite microphone preamplifiers
Red anodised aluminium unibody chassis

Front panel:
2 line/mic/instrument combination inputs – Neutrik XLR/¼" TRS Jack Combo
2 Line/Instrument switches
2 Gain knobs
2 Gain halo signal indicators
48V Phantom power switch
Direct monitor switch
Large monitor level dial
USB Connection LED indicator
Headphone output - ¼" TRS Jack
Headphone level knob

Rear panel:
2 balanced monitor outputs – ¼" TRS Jack
USB 2.0 Port
Kensington Lock slot

Included software:
Ableton Live Lite 8
Focusrite Scarlett plug-in suite
Analogue Input Performance
Mic
Frequency Response
20Hz - 20kHz +/- 0.1 dB
THD+N
< 0.002% (minimum gain, -1dBFS input with 22Hz/22kHz bandpass filter)
Equivalent Input Noise (EIN)
< -120dB: measured at 55dB of gain with 150Ω termination (20Hz/22kHz bandpass filter)
Gain Range
+10dB to +55dB
Max Input Level
-3dBu
Line
Frequency Response
20Hz - 20kHz +/- 0.1dB
THD+N
< 0.002% (measured with -1dBFS input and 22Hz/22kHz bandpass filter)
Noise
-90 dBu (22 Hz/22KHz bandpass filter)
Signal to Noise Ratio
> 100dB
Gain Range
-10dB to +35dB
Max Input Level
+20dBu
Instrument
Frequency Response
20Hz - 20kHz +/- 0.1dB
THD+N
0.005% (measured with -8dBu input and 22Hz/22kHz bandpass filter)
Noise
-87dBu (22Hz/22kHz bandpass filter)
Gain Range
+10dB to +55dB
Max Input Level
-3dBu
Analogue Output Performance
Nominal Output Level
0dBFS = 10dBu, balanced
Frequency Response
20Hz - 20kHz +/- 0.2dB
THD+N
< 0.001% (measured with 0dBFS input 22Hz/22kHz bandpass filter, un-weighted)
Output Impedance
< 10Ω
Power Output into 150Ω
15mW
Power Output into 50Ω

30mW

Digital Performance
Clock sources
Internal clock only
A-D Dynamic Range
105dB 'A-weighted' (all inputs). Converter chipset A-D dynamic range 114dB
D-A Dynamic Range
104dB 'A-weighted' (all outputs). Converter chipset D-A dynamic range 114dB
Supported sample rates
44.1 KHz, 48 KHz, 88.2 KHz, 96 KHz
Crosstalk
Input to Input
Better than 90dB
Output to Output
Better than 90dB
Input to Output
Better than 85dB
Input Metering
Ring LED lit Green
Signal present (-24 dBFS)
Ring LED lit Red
Signal overload (0dBFS), peak held for approximately 1 second
Weight and Dimensions
Height
45 mm / 1 ¾ "
Width
175 mm / 7"
Depth
100 mm / 4"
Weight
580 g / 1.3 lbs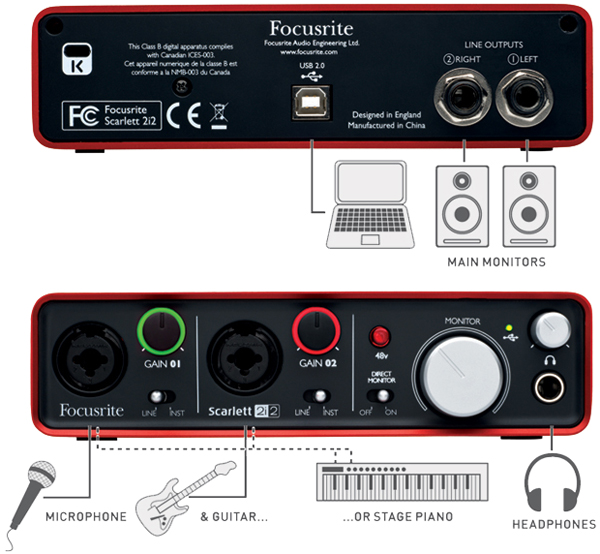 If you don't see it, it doesn't mean we don't have it. If you are interested in a certain product, but don't see it on our website, please call us or e-mail us!
*All products subject to available stock.
Copyright © 2014 by www.123DJ.com